NetMorph Swiki
NetMorph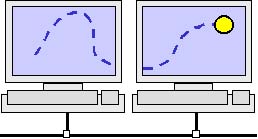 ---
NetMorph is a visual mobile agent system. In the environment, network-enabled morphs can move freely across the World (desktops). It will lead us into a new kind of collaboration!

---
What's new?
NetMorph 0.3 (for Squeak 3.8&Squekland 05) is available now! (10/24/2005)
NetMorph 0.3 sar files:
Pre-Installed images:

Old versions:

You can also install NetMorph from SqueakMap.


---
We demonstrated NetMorph in IPAX Autumn 2003.
2003年9月29日(月)〜30日(火)に東京国際フォーラムで開催される第12回IPAX Autumn2003に出展します。(abee:17/09/2003) 終了しました。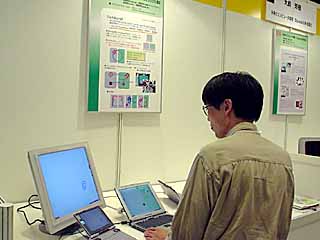 NetMorph 0.1 is now available on SqueakMap!(ume:01/06/2003)

Now, demo images are settings-free. Just download and run! here. (ume:05/06/2003)
デモイメージは設定不要です。ダウンロードしてお試しあれ。(ume:05/06/2003)

For OS/X users! - copy the Squeak VM and run NetMorph image on each VM. This is OS/X VM restriction.
デモイメージの場合、OS/Xユーザは、各イメージ用にSqueakVMをコピーして起動しましょう。
日本語版のデモイメージができました。ここからどうぞ!(abee:20/06/2003)

初めて使うときは、2つのイメージを起動した後に両方とも再起動してください。これは自動生成されるRESOLVER_WorldMap.csvの読み込みを確実に行うためです。
日本語版の使い方は英語版と同じです。ただし、地域名に日本語は使えません。また、地図用csvファイルの行末コードはCR(16r0D)でお願いします。
ワープ時に「MessageNotUnderstood: languageClass」のエラーがでることがあります。これは、再度実行したり、モーフを回転させたり、スクリプトをつけることで直る場合があります。すみません。
サーバは英語版を使ってください。
---
NetMorphがベータテスト用にリリースされました。どしどしお使いください。使い方
NetMorph is just available for beta testing! (Currently only for Squeak-Ja people). (ume:20/05/2003)
---
We performed the first field test of NetMorph in CAMP on 2nd Feb. 2003.(abee:17/2/2003)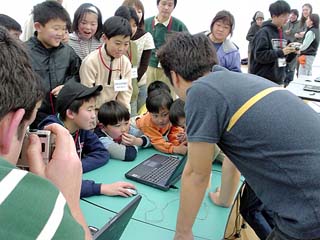 More pictures taken by Nonoshita-san are here. (abee:11/6/2003)

A new stable demo image is available now! (ume:16/01/2003)

We will perform nice demonstrations in OOSPLA 2002.
Come and meet us in CampSmalltalk and Squeak BOF!!
(ume:25/10/2002)

John McIntosh's BOF report is here. --abee (7/11/2022)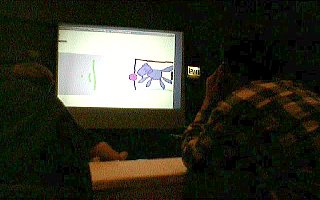 ---
Download:
Documents
Now contents are rather obsolete! (ume:10/06/2003)

2005 images

2004 images

2003 images

2002 alpha images

---
Screenshots: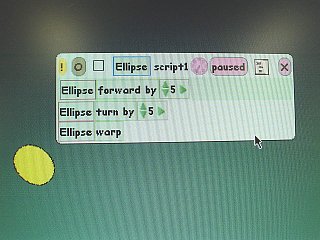 warp.MPG
If you want to go to another world, drop 'warp' tile into your script simply. --abee (23/08/2002)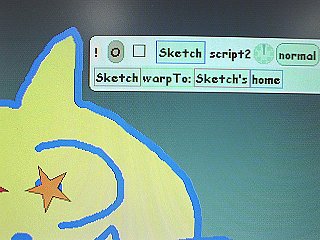 warpTo.MPG
Also, you can warp anywhere directly by 'warp to' tile. --abee(23/08/2002)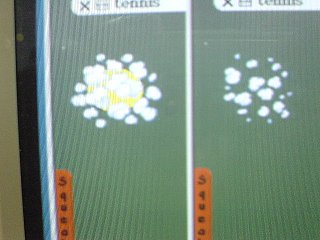 Warping out... Wow, it exploded! --abee(23/08/2002)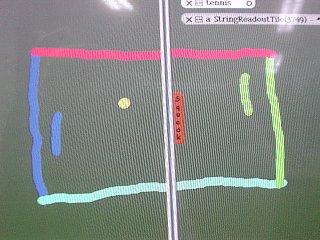 I'm playing tennis with a neighbor. --abee(23/08/2002)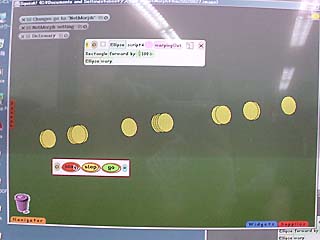 My ellipse was dropped into a worm hole beyond the event horizon. It multiplies infinitely... --abee(28/08/2002)




The linear acceleration motion through three Squeaks. --abee(07/01/2003)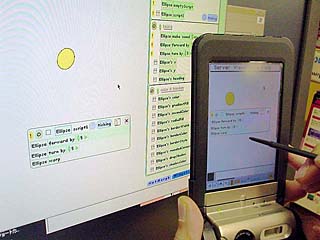 NetMorph on SONY CLIE PEG-NZ90 with VNC... --abee(17/02/2003)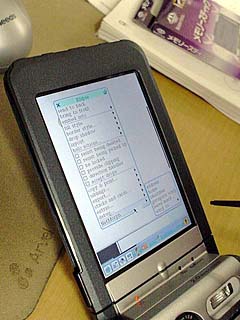 It works fine. --abee(17/02/2003)